Canon Cine-Servo 17-120mm T2.95 PL or EF Zoom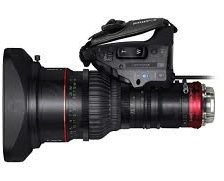 The Canon CN7x17 KAS S Cine-Servo 17-120mm offers a very wide 7x zoom range with 4K resolving power that ordinarily might require two separate zoom lenses on S35 sensors. HD Cinema has an IMS quick mount to change for either EF or PL Mount.
A Microforce V+F2 zoom control for tripod pan handle mount can be added for just $25 a day and will control the built in zoom servo motor with variable speeds.
The servo can be powered from the lens mounts of many cameras, but a separate 12v P-tap to Hirose cable is provided.
includes FIZ servo motors $300 per day
Details
T-stop of 2.95, ramps to 3.9 from 90-120mm
Weight 6.4 lbs (2.9 kg)
Length 10.0"
MOD 2.8 ft + Macro ring on the lens for extra close focusing
Front Diameter 114mm, 127mm rotating threaded ring in the included Lens Hood
Back Focus adjustment on the lens