O'Connor 2575 System $150 per day
or call for discount with camera package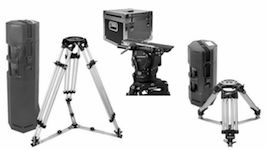 O'Connor 2575C head   $70 per day
   Included:
Pan arm with handle extension
O'Connor 08283 wedge plate
Tie down knob, ATA ship case
The 2575 fluid head is a standard for Digital Cinema for camera operators. It has precise movement, with an ultra-smooth pan & tilt fluid drag.
Add to this O'Connor's patented counterbalance system for true, accurate balance at any point in the tilt range, and you've got the best of all possible combinations.
Optional Accessories:
          ARRI Dovetails 12in, 18in, or 24in    $15

Euro quick release plate $30

Ronford-Baker HD Tall tripod - Mitchell base, with spreader     $30
Ronford-Baker HD Baby tripod - Mitchell base, with spreader  $30
High hat - Mitchell   $10
Lo hat - Mitchell       $10

Tjhis system extends the ARRI or Sony Venice viewfinder to the rear of the camera when mounted on a tripod. assuring proper orientation for the eyepice.  $30 per day includes:

O'Connor Eyepiece leveler bracket
ARRI EL-3 telescoping leveling arm
ARRI/Tilta Eyepiece extension arm